The photos below are from our trip to the Billy Mitchell Fleet which occurred on June 24 th and 25 th, 1999. We dived on the Miss Lindsey, based out of Rudee Inlet in Virginia Beach.
Back Row (Left to right) Rodney King, Rick Atkins, Alston Trent, Mike Scammon.
Front Row (Left to right) Jackie Smith, JT Barker, Dave Widen (I'll let you get away with this one Dave !)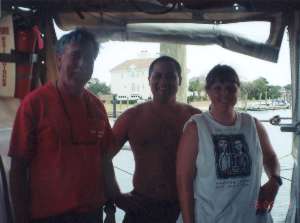 Capt Charlie, Mates Mike and Becky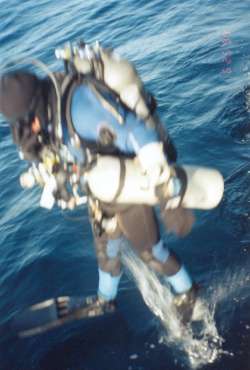 JT Barker enters the water on the way to the V-43..
Alston follows behind.
Jackie entering the water after Alston on the way to the V-43.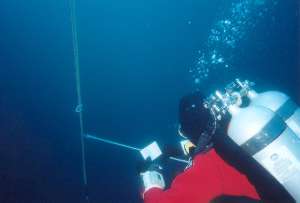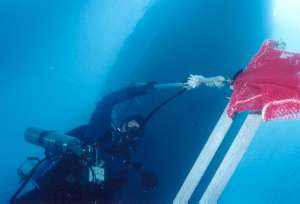 JT with the Miss Lindsey above, the water is So clear !!!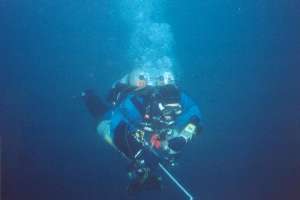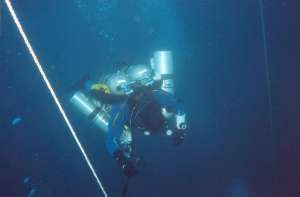 Becky watches over the divers at the 20 ft deco stop.
Alston coming up the anchor line
JT during his deco at 130 ft.
The group was told that they needed more seasoning before they did this dive.......
Dave Widen returning from his dive as a support diver at 100 ft.
Did we get the right kind of seasoning?
Alston with his hand wheel off the G102 and Jackie with a miniature port hole off the V-43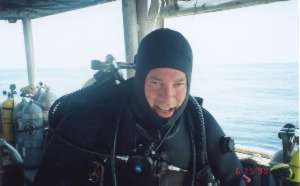 Jackie checking his dive tables during the deco.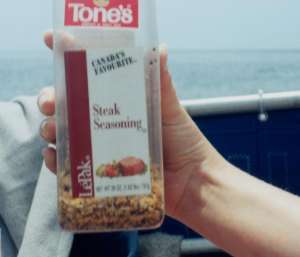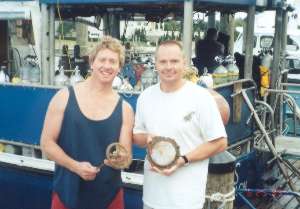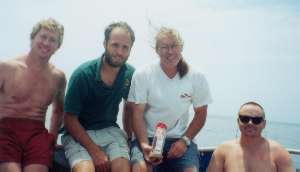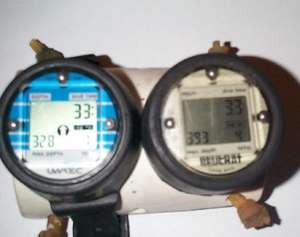 This is the UWATEC depth guage on the left showing max depth of 328 ft, which is when it stopped recording. The Beuchat shows 393 ft. They both show the run time as 33 minutes, but it is really 133 minutes.
JT on the O2 whip..