Washington Dive Trip
By Capt. JT
This is a small account of the dive that was done August 10 ,1998. I was asked to share it so that many can see that we who dive the deep wrecks can and will do it right. Not by some southern club or association standards, but by a group that has and will continue to conduct dives that we as a whole think is our best plan to do the dive.
The Dive: BATTLESHIP USS WASHINGTON 624' X 97 X 30' sunk November 25 1924 Location 60+NM NE Va Beach,Va Depth 300'
Believed to have been dived only once by six divers on air some years ago 1989 .The only returning member from that group was Greg Masi.(he told me that he did not remember much of the dive and did not think he would ever do that again on air)
The team was divided into two groups:
Group 1- Alston Trent, Jackie Smith, Tony Profera, Rick Atkins
Group 2 -Greg Masi, Harvey Storck, Jeff Hewlett, JT Barker
Support was supplied by:
Deep- Dave Widen, Jim Cobb, Randy LaBelle, Mike Fantone Shallow- Frank L., John L., Mike E., Chris C.
I will not disclose the divers individual plan, but all were using a mix and deco plan that was acceptable. All did a bottom time of 20 to 25 min. There was so much stroke gear on the boat that had we have done the dive in Florida we all would have surely died and the boat sunk. But since the phrase "stroke" came from a cave diver down there, let that term stay down there.
We left the dock 10:30 pm sat. dove the Wreck Brass Spike (depth 85'), departed site to look at unknown hangs for new wrecks on future dives, Hooked the wreck at 6:45 a.m. on the first try, this was a feat in its self as the wreck is turtled and we got it right in the rudder.
The first group hit the water at 8:57a.m. (we had to eat before we dived) after a report from the support team that all 4 were on the deco line the next 4 headed for the bottom, Jeff was my buddy and I found that his goal was to positively identify the wreck as the Washington (as the original divers were on air) he had photos of the ship sinking with the rudder hard to the Stbd and 4 openings for shafts that had not been installed, we saw all this and a wreck of great size and in perfect condition after 74 yrs underwater it was a site that was impressive.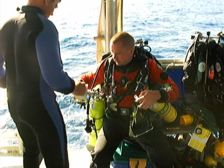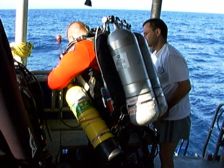 This is Mike helping Jackie Smith, and Jeff helping as well.
The wreck was covered with sea growth about 12inches long and dog sharks and their eggs were in it. Lobsters were in holes around the stern and some walking about. I was the last to finish my deco and as the safety diver watched me, I watched a 10 ft mako shark swim right behind him and off into the deep blue, the water was 44 on the bottom and 78 on top. After a lunch of Delmonico steaks and a 2.5 hrs ride to the wreck of the John Morgan (105' depth) the short dive on it seemed unimpressive.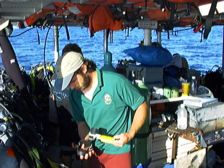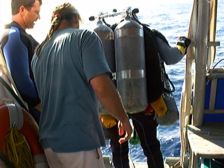 Rick Atkins prepares his gear, and Mike and JT assist him in the water.